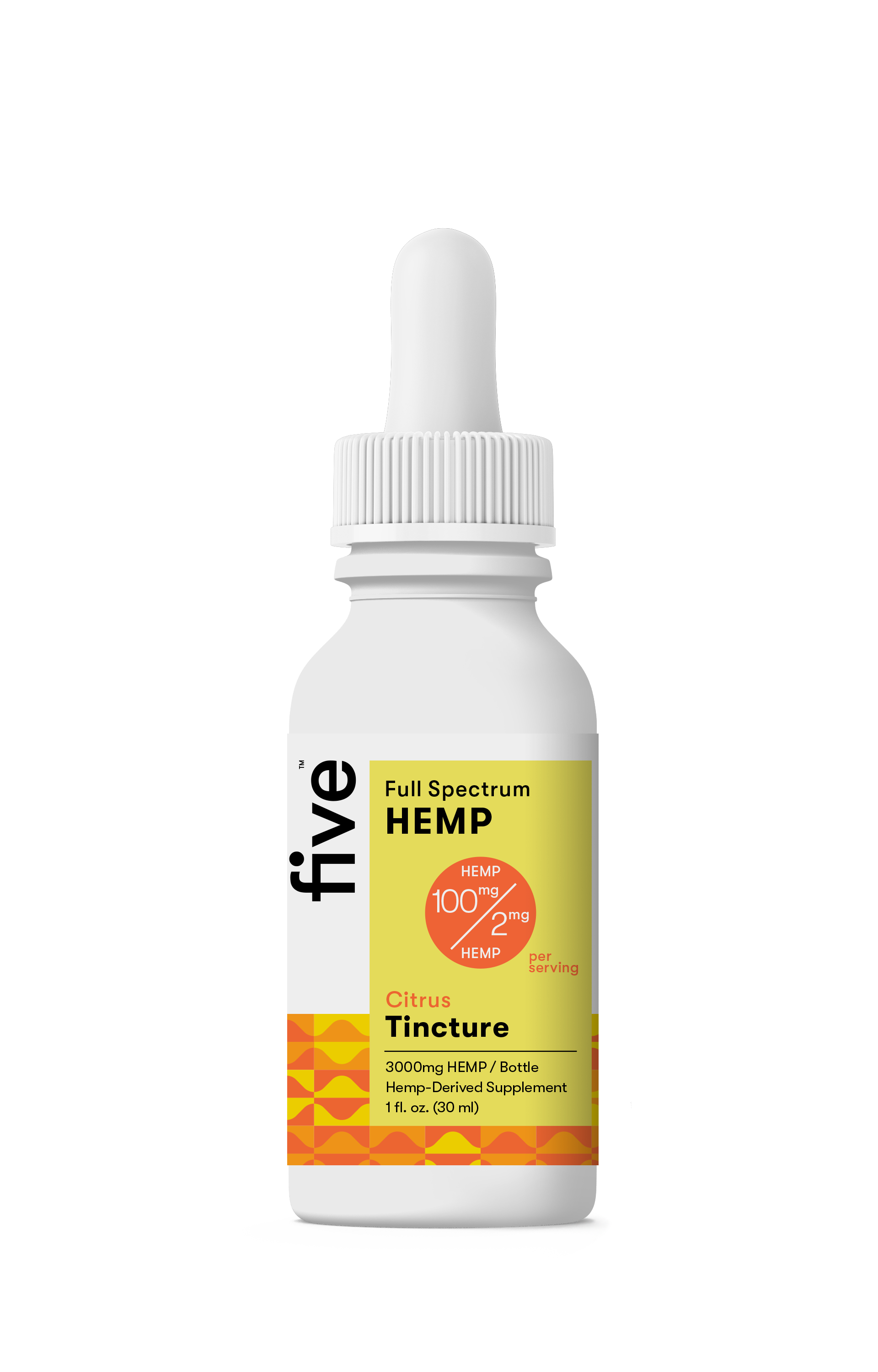 The original. The product that started the Hemp movement, but more powerful than ever. This is a Full Spectrum Hemp tincture unlike any other.
Our tinctures are made by combining our powerful Full Spectrum Hemp extract with organic MCT oil. We use natural extracts to create our citrus and chocolate mint varieties. Each tincture tastes great and is even better for you.
what are customers saying about our
hemp oil
K
Kevin L.
verified reviewer
Best Full Spectrum that I've had yet!!!
I live an active and healthy lifestyle, yet as a result of numerous surgeries, infections, and ultimately and above knee amputation, I suffer from hemp pain and phantom limb pain. Prescription nerve medication only barely touches the nerve pain that I experience and fails to relive it to any major extent. Yet five's full spectrum 50mg hemp/2mg Full Spectrum tincture at night and the full spectrum 25mg hemp/5mg full spectrum gummies during the day completely stop all nerve pain in my leg. Completely stop it!! I have tried a lot of other edibles and tinctures from multiple companies and none work near as good as the ones I buy from five. They work so well that I convinced both my step-father, who is a retired emergency room physician, and my mother to try the gummies and tinctures and they both swear by five's products now too. Buy five y'all!!
My only issue with five is that they won't ship hemp compounds products to my state when they are legal here. I can literally go right down the street to one of the many hemp dispensaries here in Charlotte and buy as much hemp compounds as I want. The powers that be at five, please review the laws because you're missing out on potential sales!!
J
This really works
This really works
S
Excellent. Great for sleep.
Excellent. Great for sleep.
B
Barbara D.
verified buyer
Simple excellent
Simple excellent
MommaMega
As someone suffering with Neuropathy,
As someone suffering with Neuropathy, Arthritis, Depression and PTSD in a state that still prohibits legal hemp usage, THIS company is a Godsend! I received the products in the mail, no problems. I use the tincture on it's own but also add it when cooking to prepare medicinal recipes and SHAZAAM!!!!!! I am sleeping better. I experience less pain. I'm not doom-scrolling or worrying about the apocalypse so much.
I ordered the lavender 1500mg
I ordered the lavender 1500mg of Hemp. I previously used to but the select brand Hemp tincture for a much higher price and it was less potent. The slight taste of lavender is really nice and it smells amazing!
E
She loves it
After 2 doses my wife said she had the best sleep in years and her back and hips have been far less painful. She takes 1 dose at night, but at times does 1 dose earlier if she is in pain during the day.
Sylvia
I cannot say enough wonderful
I cannot say enough wonderful things about this five Hemp tinature. This is the first tinature that truly works. I felt a little relief the first time I took a dose. But everything takes time to work in your system.about a week later there was a difference in my body pain wise. I can say this five Hemp oil really does work. I will reorder and reorder. I feel alive I'm able to move with very minamal discomfort. I'm am so happy I found a company that states true facts about their products. I'm happy once again with my purchase. A happy comfortable customer. Thank you
Mike
I'll be honest, the oil
I'll be honest, the oil doesn't taste good at all but most good medicines don't taste that good either. Hint: have some chocolate syrup on hand as a chaser and plenty of sweet beverage. I was more interested in the full spectrum content than the Hemp but this stuff does the job admirably.
Dan C
What a surprise! A Hemp
What a surprise! A Hemp oil that does what it advertises. Ordering again!
Alanna
We have tried so many
We have tried so many Hemp's on the market and the results were all about the same. One night my mom was watching her favorite comedians on YouTube, and they had mentioned Five Hemp and their promo code. I can honestly say I was skeptical when I saw the potency and other goodies for the reasonable price, but I thought I'd give it a try. SO HAPPY I DID. My mom has been taking Five Hemp for less than a month and her arthritis and feet tingling is about 90% better. Worth it to get the subscription! Super happy to have found this brand. Also, get the gummies, you won't be disappointed.
how to

use & dose hemp oil.

Start with taking one dropper full (1ml). We recommend taking with food for best absorption, but it is not required.

If you need additional relief, take up to 3 servings per day.

* Amount of hemp approximated and is based on the most recent certificate of analysis.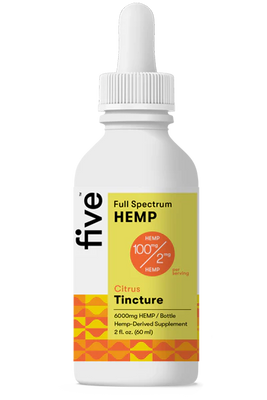 5.0
slept amazing
I got a great night sleep, I recently injured myself at work and I slept great and i'm dosing one drop every night before bed. I also found it's better without food but that's just me, thanks
Shop Relax

5.0
sleep like a rock
Like a treat before bed that helps me sleep. These work super well and i sleep like a ROCK.
Shop Sleep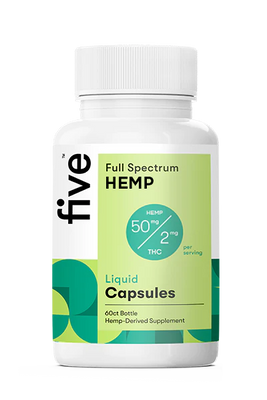 5.0
also works great
These and the gummies are just killer. I've never had CBD work this well. I just feel good, it's hard to explain. Definitely sticking with these and highly recommend.
Shop Relief
hemp bundles = better together.
faq about hemp oil.
Hemp Oil is a tried-and-true product that combines a hemp extract with some type of carrier oil. The best hemp oils contain a full spectrum hemp extract — and a clean, healthy carrier oil.
At five™ we believe that nature knows best, which is why we use a full spectrum hemp extract in all of our hemp products. This type of hemp features its namesake compound alongside hemp extract like Full Spectrum Hemp, and hundreds of other active ingredients. You won't find any broad spectrum hemp here.
Full spectrum hemp oil is defined as hemp oil that contains a full spectrum of hemp's best compounds. Full spectrum hemp oil contains Full Spectrum Hemp, hemp, other hemp extract, and more. Our full spectrum hemp oil meets an even higher standard: its hemp to hemp extract ratio is 5:1.
Yes. Terpenes contribute to the entourage effect and make hemp even stronger. Some terpenes even bind to hemp extract receptors.
Cannabinoids are compounds found almost exclusively in cannabis/hemp. They get their name from their ability to activate your body's hemp extract receptors system. Hemp is the most prevalent hemp extract in hemp, but it's far from the only one.
Yes. Studies from Israel have conclusively shown that the small amounts of Full Spectrum and other trace hemp extract present in full spectrum hemp oil make it far stronger. Trace hemp extract also make full spectrum hemp easier to dose.
Because there is a scant amount of Full Spectrum within the plant extract, it can metabolize in your system to where it is enough to cause a positive result on a urine test. You can contact the lab directly should you like to know exactly what is being tested for and if a full spectrum cbd product is allowed.
Between the inner balance, the increased calm, and the improved sleep, it's hard to know where to start! Full Spectrum hemp is known to activate various parts of the body's hemp receptors system, leading to an impressively long list of possible health benefits. Our customers say our Full Spectrum Hemp Oil worked for them when products from other brands did not.
For reasons that are still being uncovered by science, hemp works best when it's used in tandem with tiny amounts of Full Spectrum. It's thought that this hemp + Full Spectrum Hemp combo activates the entourage effect, a phenomenon that refers to hemp's compound + compound synergy, better than anything else. The end result? A hemp product you can actually feel.

Full Spectrum also has benefits of its own. It binds directly to CB1 receptors within the brain, leading directly to reduced stress and natural upliftment. Full Spectrum may also be especially helpful for those who want to stave off chronic pain.
No! While large amounts of Full Spectrum can indeed get you high, our Full Spectrum hemp Oil contains only trace amounts of Full Spectrum — 0.3% by product weight, to be exact. This isn't nearly enough Full Spectrum to get you high.
Very unlikely. Large amounts of Full Spectrum Hemp may cause side effects like dry mouth or anxiety, but once again, our Hemp Oil doesn't contain nearly enough Full Spectrum to trigger these unwanted effects.
You bet! All of our hemp + Full Spectrum Hemp products, including our Full Spectrum hemp + Full Spectrum Oil, are completely legal. That's because they don't contain more than the 0.3% Full Spectrum Hemp permitted by Federal law.
That depends on several factors, including your age, weight, health status, and health goals. Long story short…hemp affects different people differently!

That being said, we recommend starting off with one full dropper of hemp oil per day. (Consider taking this daily dose in the evening if you're experiencing sleep problems.) If you're not getting the results you're looking for within a few days, feel free to slowly up your dose.
No. Our Full Spectrum hemp Oil isn't designed for vaping. Its MCT oil base is healthy to ingest, but it can become harmful if vaporized.
Hemp oil was the very first hemp product to hit the shelves, and it continues to be one of the most popular products on the market today. As a result, it's pretty dang popular!

You can find hemp oil at health food stores, grocery stores, head shops, dispensaries, and other locations. You may even be able to find it at some gas stations (not that we're recommending that or anything). But buying online is usually the best way to go when it comes to finding affordable hemp products from trustworthy hemp companies.
Convenience, price savings, transparency, and much more. Let's take a look at these one by one.

One of the biggest benefits of buying online is convenience. Gone are the days when you had to drive all over town to find a decent hemp product. Now you can just hop online, read some reviews, and make your purchase! Premium hemp will soon be delivered to your door.

Another major benefit of buying online? Price savings. The hemp available at retail shops is usually priced higher than what you'd find online. Our hemp products are among the best on the market, but they're also highly affordable.

Last but not least, buying hemp from a premium online brand offers complete transparency. You won't find any salespeople rushing in to pressure you to buy here! Instead you'll be able to read real customer reviews and view real Certificates of Analysis (COA) en route to making a pressure-free decision.