0 0 0 , 0 0 0 FREE BOTTLES AND TINCTURES GIVEN AWAY - AND COUNTING
FREE
HEMP Products
JUST PAY SHIPPING
4
Feel the five difference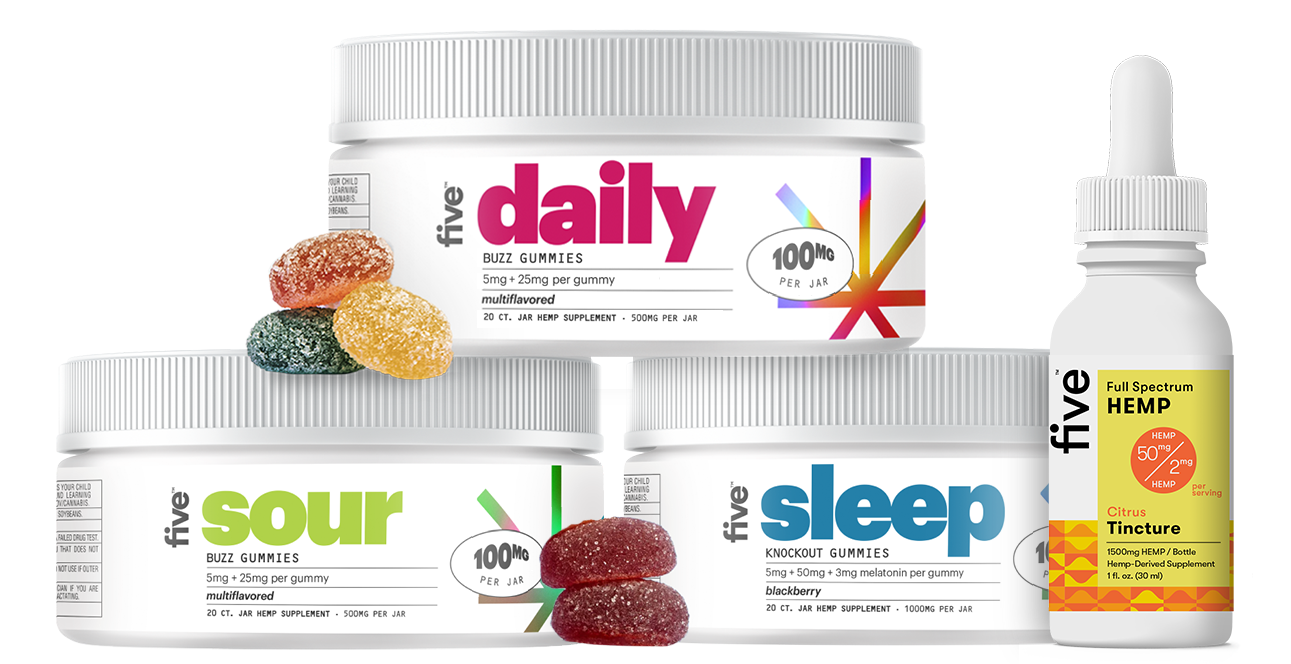 Over 20 million gummies sold!

2,500+ 5 Star Reviews
These are by far the best Full Spectrum gummies I have ever tried. Totally relaxed me and I felt just the right buzz. I would highly recommend and continue buying these five gummies! Its all I need.
Paula S.
Verified Customer
The Daily Buzz gummies are the best I've had. Love the high amount of Hemp along with the perfect amount of Full Spectrum. Love the variety of yummy flavors as well. I'm hooked!
Anna.
Verified Customer
I can finally sleep! I've had trouble sleeping for YEARS. now I can finally fall asleep and stay asleep with Five's Full Spectrum gummies (2mg). It's the perfect amount to help calm be down and fall asleep without feeling high. No grogginess or anything. Just great sleep. Highly recommend!
Amanda.
Verified Customer
347 reviews
what are the people
saying about five TM
D
10 Stars
I have a medium tolerance. I tried so many brands. I won's dis other brands.
This mix gives me the relaxing feeling I need but still fuction during the day.
L
LUIS L.
verified reviewer
AWESOME GUMMIES THE DAILY BUZZ IS ON POINT
TAKE 2 WAIT ABOUT AN HOUR AND THE MOOD IS RIGHT!
L
hemp gummies
work well
K
Kathryn H.
verified buyer
Great High with Two
Take two and going to a film is a completely different experience. Don't take before going to bed.
D
debra m.
You choose what is right for your lifestyle
Thank you for this product, this has relieved stress, and pain, allowing me
To have a much more restful sleep 😴
Only then can you body heal 🙏🏼👏👏❤️
R
Rich L.
verified reviewer
The Daily Buzz duzz the trick!
I've tried several brand gummies including full spectrum and these are hands down the best. If you're looking for a good mellow buzz, these are great and also do a good job of relaxing. I take 2 right after supper and I'm good for the rest of the evening. My wife only needs one but she is smaller than me. They can also put you in a really good mood if you know what I mean.
M
Excellent!
Have had excellent customer service. Have received excellent product. I am very happy!
P
Total satisfaction
These gummies are great!! Totally awesome!!!
C
Good deal
Always enjoy these gummies.
G
Gregory R.
verified buyer
Great product.
Love it. Super helpful for sleep.
M
They have high quality products,
They have high quality products, and very good customer support. hope to order again in the future.
M
Matthew C.
verified buyer
AMAZING!!!
I was skeptical... after the first gummy I was more relaxed than i've been in 10 years. absolutely love them. two weeks in and feeling great.
A
Amazing and im ordering more
Just feel relaxed and good. Just from one gummy, much better than those with higher full spectrum and had worse experience.
D
Great gummies
The gummies taste great and they make me feel all loose and good
Anj
Haven't gotten such consistent deep
Haven't gotten such consistent deep sleep in so long. Love the product so far!
Say hello to your new favorite feeling.
Sourced from the best hemp farms in the US, five™ is redefining what Full Spectrum Full Spectrum means. Now you dont need to wonder if you can feel the effects of Full Spectrum.
With up to 5mg Full Spectrum per Daily Buzz gummy or 2mg Full Spectrum per dropper full, five™ does not leave you wondering if you can "feel" Full Spectrum products. Whether you need a joyful lift or boost, every serving is packed with Full Spectrum and beneficial cannabinoids and terpenes for that good feel relief.
Sourced from the best hemp farms in the US, five™ has the most stringent standards for our suppliers. We could go on and on about what makes five™ Hemp so special, like our fair pricing model and the fact that we are CGMP Certified, but we believe it's better to let you try our full-sized bottles for FREE (Up to $49.99 value). Just cover shipping. Warning: May cause drowsiness.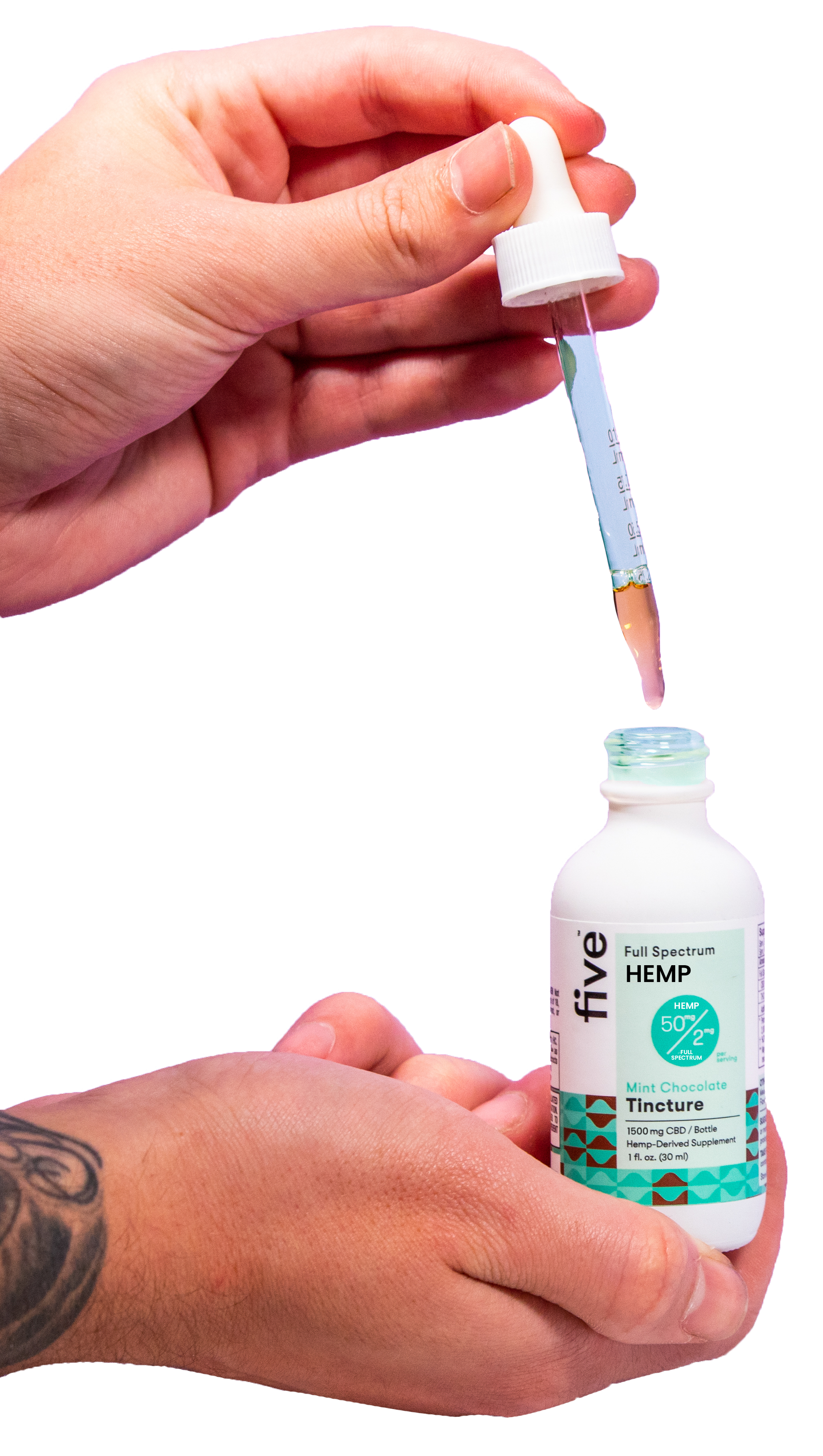 the five ™
difference
• High quality at half the price
• Up to 5mg Full Spectrum per serving
• Ships to all 50 states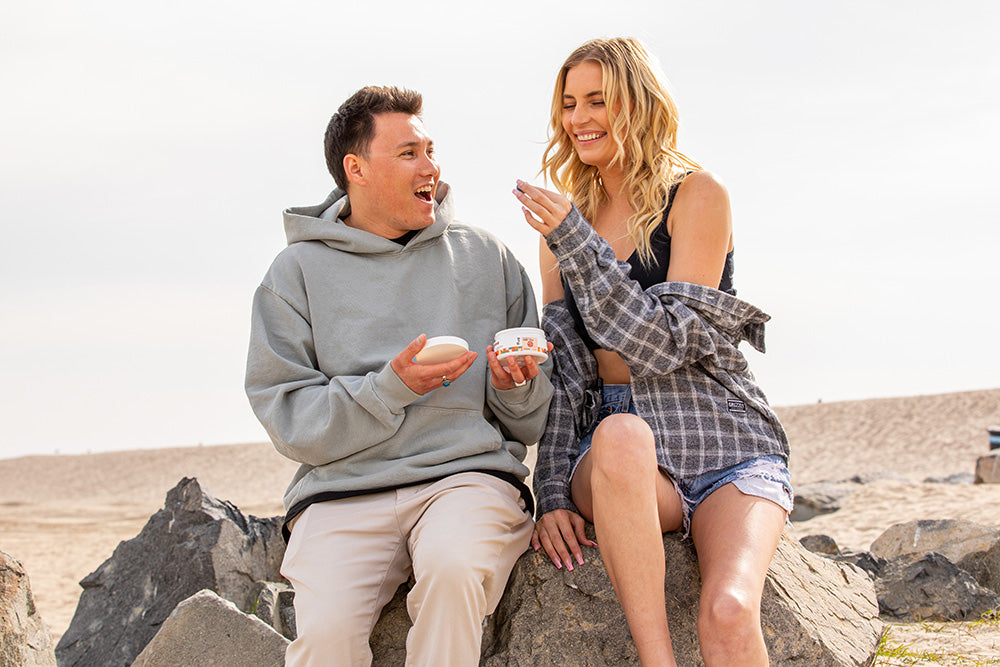 about five™
Your trusted Hemp partner. Each five™ Full Spectrum product contains a 5:1 ratio of Hemp to other beneficial hemp compounds such as minor cannabinoids (Full Spectrum), terpenes, and flavonoids.
We promise to continually innovate our products so that you receive the highest quality Hemp for the best price, guaranteed.